Wikibon recently published some results of a study analyzing the economics of Unified Communications as a Service, with Office 365 as a case study.
Here are a few things that jumped out at me:
On-premises deployments cost significantly less than Office 365.
This might seem counterintuitive for people who look at just the subscription costs.  It's important to remember that cloud service offerings reduce, but do not eliminate the need for on-premises services.  You'll still need front level helpdesk services and even some level of Exchange expertise in house to service a sizable user population.  It also increases costs in some areas like networking, and the upfront cost of migration can be significantly higher than simply moving to a new version of Exchange.  Check out the picture below for details on cost breakdown.

The "cost crossover" point is 300 users
The notion that "owning" becomes more economical than "renting" once you use enough of a resource is intuitive.  However, I've always thought that the crossover point was somewhere around 2,000 users.  Wikibon's analysis shows it happens far earlier, at around 300 users.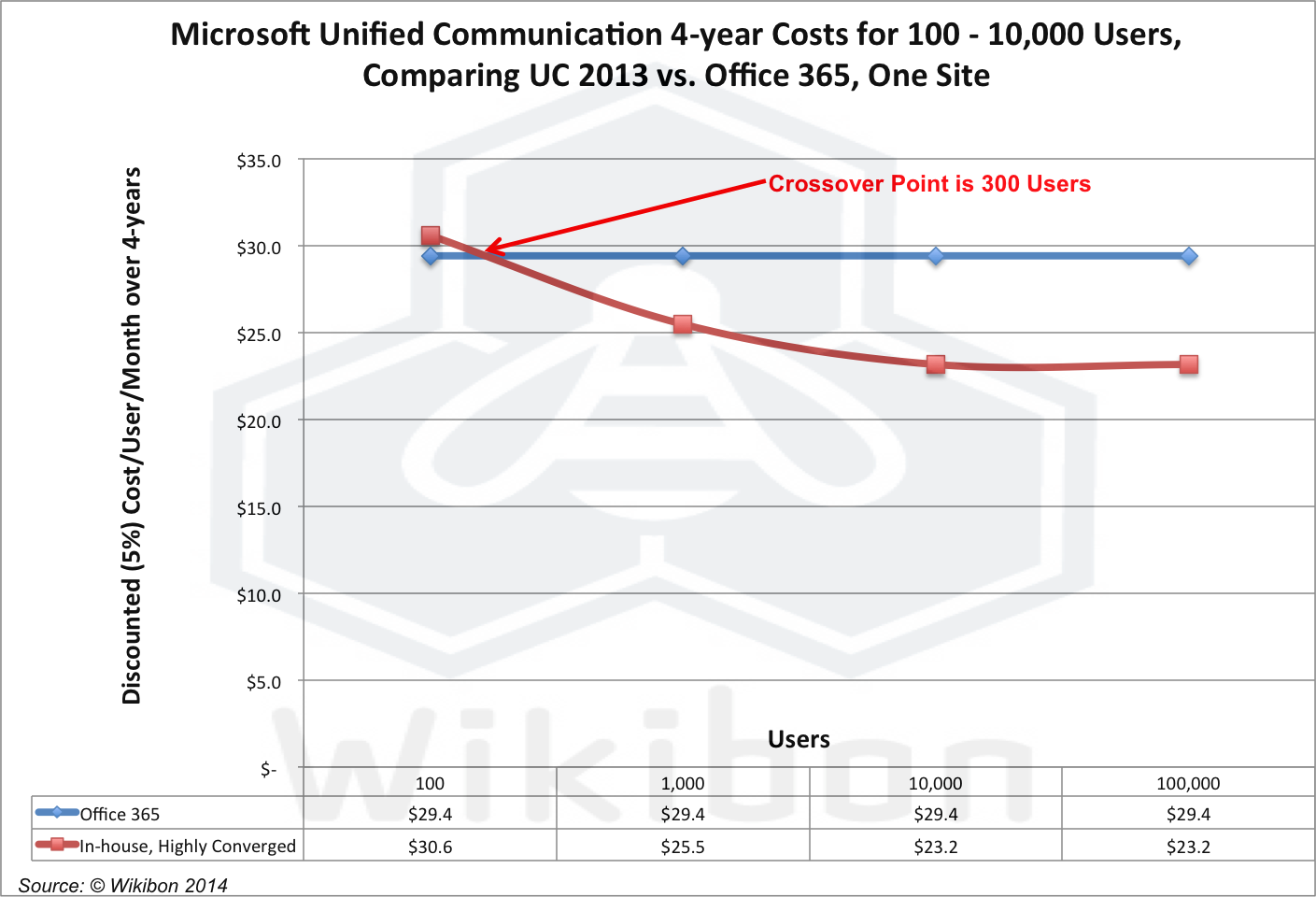 You should upgrade to the 2013 suite now
The UC Suite isn't just Exchange – it's SharePoint, Lync and the rest of it.  There are marked productivity improvements over the 2010 suite coming from enhanced communication and collaboration options, as well as much improved mobile support.  It's easy to imagine how useful features like one-click video calls, mobile Lync clients,  enhanced mobile support in SharePoint increase productivity.  And 5% may not sound like a lot, but this could mean millions to an organization.  An organization with a $100 loaded employee cost will see $1,200/month in productivity improvements, at an outside cost of $30/month.  Even if the UC 2013 suite delivers on a fraction of that, it's a very quick ROI.
DAS still doesn't make sense for the UC 2013 suite
"DAS vs SAN" debates are just so, like, 2010.  Most customers I talk to now deploy applications on some sort of converged system – whether it's a reference architecture like VSPEX or an engineered system like vBlock.  But even if you're going to roll your own infrastructure, it helps the bottom line to think about the entire ecosystem before you deploy.  Just like SaaS doesn't eliminate the need for on-premises equipment and expertise, the fact that you can put Exchange on direct attached storage doesn't negate the benefits of shared storage.  Nor do Exchange's features extend throughout the entire UC suite.  It's good to ponder the following when planning the hardware infrastructure:
Footprint and cost reduction from features like thin provisioning
Agility from being able to scale performance and capacity independently
Ability to integrate the disaster and backup and recovery policies and capabilities of the entire UC stack
Oh, and it's less expensive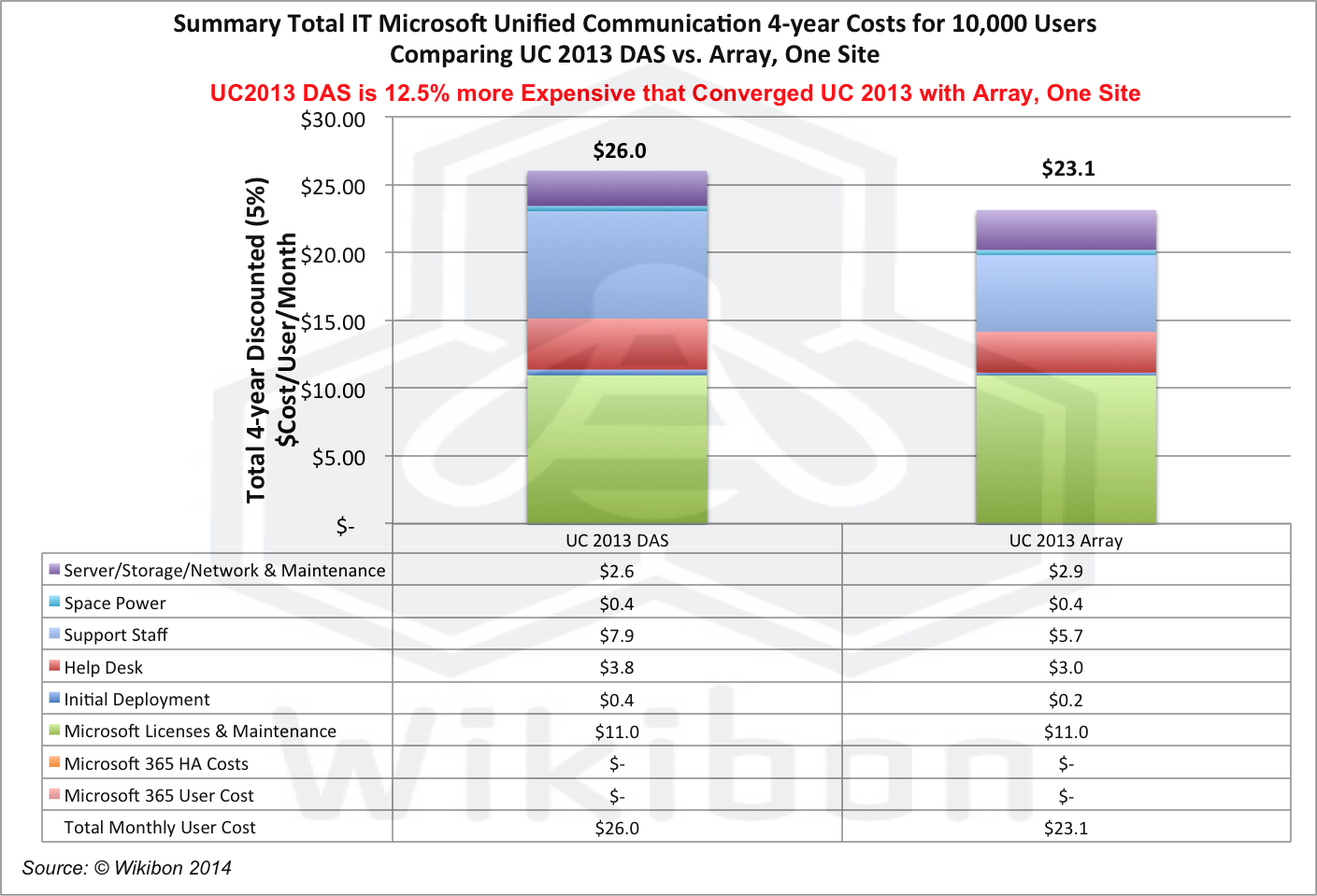 Final thoughts
Wikibon's blog post is a pretty interesting read.  Of course, even if the economics don't work out, you may still have good reasons to move to a public cloud – perhaps you feel that service levels will be better with an external provider.  Or perhaps you just don't want to be in the business of providing unified communications services to your users.  If that's the case, be aware that there are other offerings than Office 365.  EMC and its partners provide cost-competitive, feature-rich hosted unified communication solutions for environments of any size.